Being part of a book club has been a gamechanger for my mental health.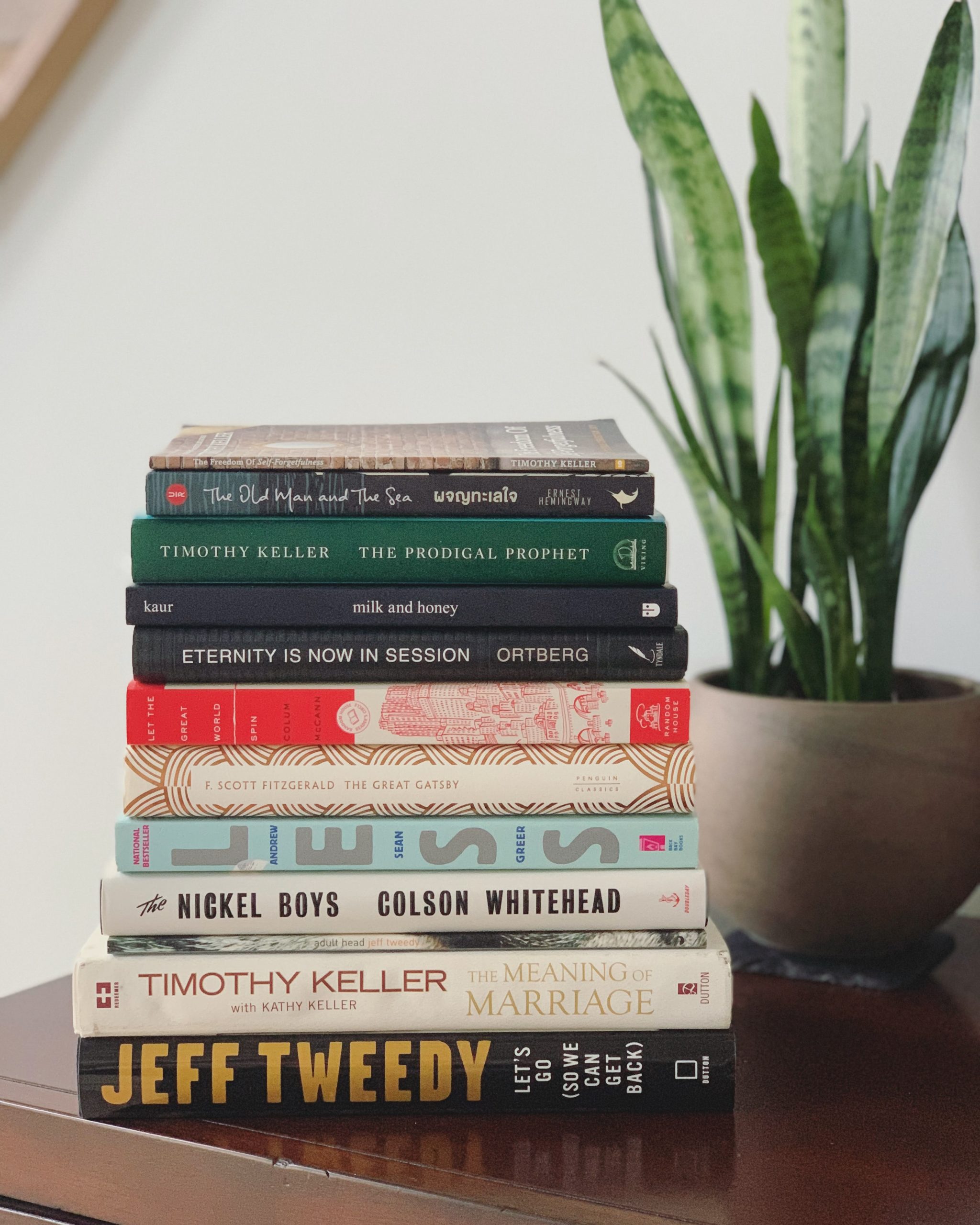 For as long I can remember, I always thought I wanted to be the type of woman who was in a book club. I had visions of a Mad Men situation where a bunch of women holding martinis in fabulous clothes were sitting in a sunken living room talking about literature.
Then I went to grad school, got married, had a kid, and my dreams of ever being a Book Club Woman faded. I was teaching full-time high school and part-time online graduate writing courses. I was still reading, but not at the pace I wanted to be reading. And, the thing that I missed the most about grad school and undergrad English major life was talking about the books.
In February of 2020, I was graciously invited to a book club. If I'm being honest, I basically invited myself, but I was welcomed with open arms by a group of women much younger than me. When the pandemic hit, meetings were moved online. When the weather warmed up, we started meeting at a park.
In September, I couldn't stop thinking about how much I missed talking to my grad school friends about books. I reached out to some of my girlfriends from my cohort. I'd gotten the idea to a Zoom book club after being invited weekly Zoom movie nights by a good friend from undergrad. Catching up with Matt and making new friends while watching rom-coms, early aughts comedies, and action movies, I suggested to my grad school friends we do a Zoom book club. And now I'm in two book clubs!
Like many, I hit a wall, emotionally, during the pandemic, and these two book clubs helped pull me out. Discussing art, politics, and maybe a little gossip, made the social losses more bearable. Between the local book club, weekly movie nights, and my grad school gal book club, I felt like I was a much more pleasant person to be around.
Book club feeds my English teacher self. It forces me to continue to read critically, which I'd do anyway, but being able to float theories and analysis is the kind of intellectual stimulation this nerd needs.
Not sure how to start or join a book club, here are few tips.
Look for local book clubs.
 If you're new to an area or don't have a huge social circle, reach out to your local library and see if there are any book clubs you can join. Ask your coworkers if they are in a book club. There are also websites where local book clubs actively recruit members.
You don't want to meet up with strangers? That's cool.
Start your own book club.
When I started my grad school gals book club, I created a private Facebook group and messaged folks before adding them. The private Facebook group is an easy way to work out all the kinks.
Pick your first date.
My local book club meets every 4th or 5th Thursday. This makes it easy to know roughly when we're going to meet. It's always around the same time of the month. This also gives us enough time to read the books.
The Grad School Gals Book Club is a little different. I put out a poll after we've met in the Facebook group, and we vote on the best date. We meet roughly every 5 weeks.
Picking a Book
This is one of the best, but also most challenging parts.
I love the strategy that my local group does. Since the book club moves from one house to the next, the host puts out two books to choose from, then we do a quick vote.
The Grad School Gals do it differently. When I put the poll up, I ask for links to books that everyone wants to read. After about a week, I create a Google Form where we rank our choices by "Most Excited to Read to "please, God no." Quick descriptions of each book are put at the start of the form to make it easier to rank. Once everyone has submitted their responses, the book with the most "Excited to Read" votes is the book of the month.
There are also a lot of lists online and resources to help you pick a book. Maybe you want to read books that have movies or TV shows greenlit, find a list! You can do things thematically or decide to read Pulitzer prize winners or local writers. Whatever you decide, there are so many great books to choose from.
Meetings
Run your meetings however you'd like. With virtual book clubs, it's nice to go follow similar guidelines that you might in a Zoom meeting, muting your mic when you're not talking, and all that.
At our local meeting, we go around and rate the book out 5, and then give a quick overview of our thoughts. As we do this, questions get asked and the discussion unfolds.
Book Club Kits
Some publishers include Book Club Kits. Before your meeting, it might a good idea to see if the book you're reading has one.
Want to read With All My Love, I Wait with your book club. I've got a book club kit ready for you! Check it you here.
Final Thoughts
This past month, I didn't finish the local book club choice. I read about 70 pages and then bailed. The book wasn't for me, and I was in the middle of writing a book. I couldn't devote the time to read it. Did that stop me from going to our meeting? No!
Not having read the book shouldn't be a deterrent. Book club is about being social and enjoying the company of people who share similar interests.
So, if you're on the fence, don't be. Get your butt reading. Join or start a book club. You won't regret it.
Did you know I have a newsletter? It comes into your inbox once a week. Sign up here!
Looking for your next read? Check out my novel, With All My Love, I Wait.